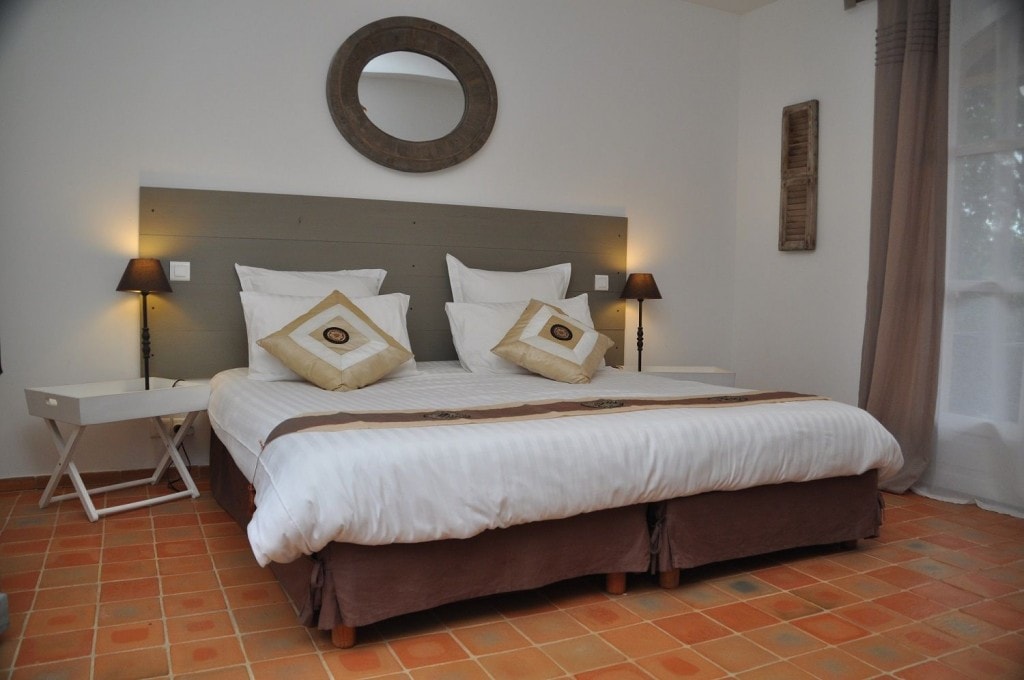 One of our 3 rooms of our quiet b&b in Provence is called the Beige one.
This room is on ground floor of our quiet b&b in Provence. It opens directly onto the large terrace. Its orientation is south.
The decoration is authentic-chic.
This room may also allow wheelchair access. The ground is in squares of Salernes. it's heated by geothermal energy, very pleasant when walking barefoot.
In summer, large, thick wooden shutters protect it from the heat. We can prepare the charming beige guest room with two twin beds or with a double bed and two Provencal bedside tables.
It is also possible to add a 3rd bed in this room (Additional 40 €).
Its handcrafted headboard is in Provencal limed wood. You can use the wooden console to put your effects.
It is also possible to put your computer there. You can connect to the Internet via Wifi in the Orange room. The beige bedroom is equipped with a 60cm flat screen TV and a white wooden cupboard with shelf and wardrobe.
Furthermore, you have a large bathroom. You will find a large walk-in shower, a double sink and a tile top in the same color as the shower.
In our Charming Bed and Breakfast in Saint Maximin la Sainte Baume we provide shower gel, bath towels and shampoo. We also offer you a courtesy tray, with mineral water, coffee, tea, sugar, glasses and cups.