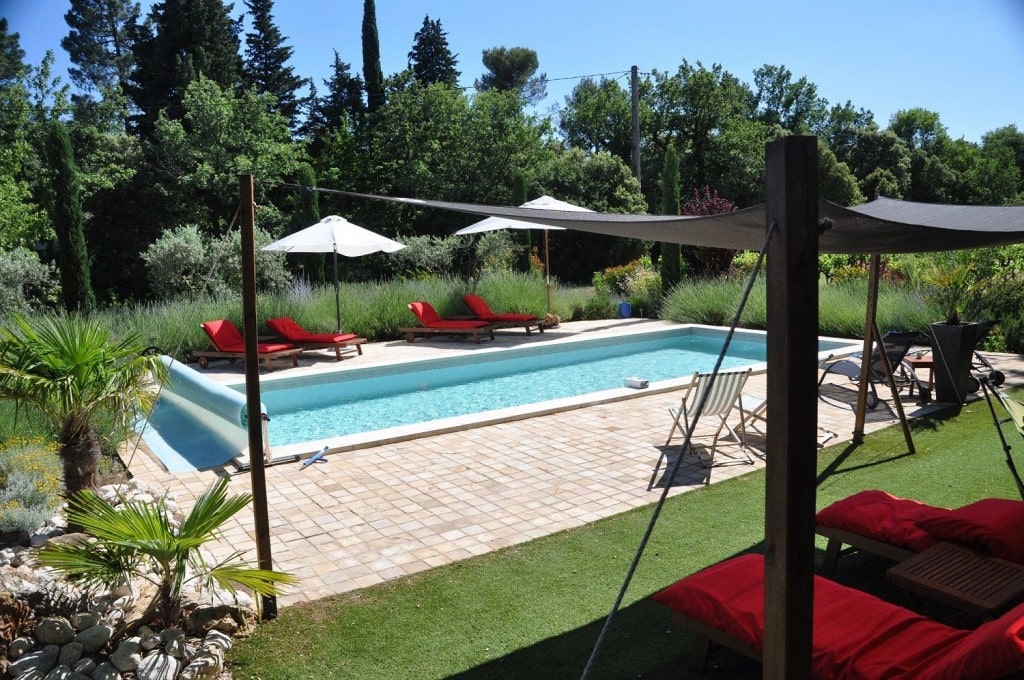 Le Clos Geraldy is a charming Guest House with a Pool.
The Pool and it's pergola for enjoying sun, quiteness surrounded with lavenders bushes and olive trees
This Guest house with a pool is located in Provence, near la Sainte Baume.
The Pool is accessible directly from all rooms.
You will find teak deckchairs with their soft cushions. Small teak tables to store your belongings and of course parasols when you want shade.
As the Bed and Breakfast Pool in Saint Maximin la Sainte Baume measures 10m x 4m, you will have your feet there all the way (1.70m at its greatest depth), which is very pleasant. However, you can dive there in complete safety.
And the pool surround is paved with indies, very comfortable when you put your feet there. A bubble sheet covers it every night, which allows it to maintain its temperature the next morning.
A large pergola covered with an Australian shade sail of brown color, shelters a grassy part. It is surrounded by olive trees, Provençal shrubs, rosemary and lavenders (flowering from mid-June to mid-July).
It should be noted that Le Clos Geraldy is not accessible to children over 2 years old and under 18 years old, which ensures total calm around the swimming pool at all times.