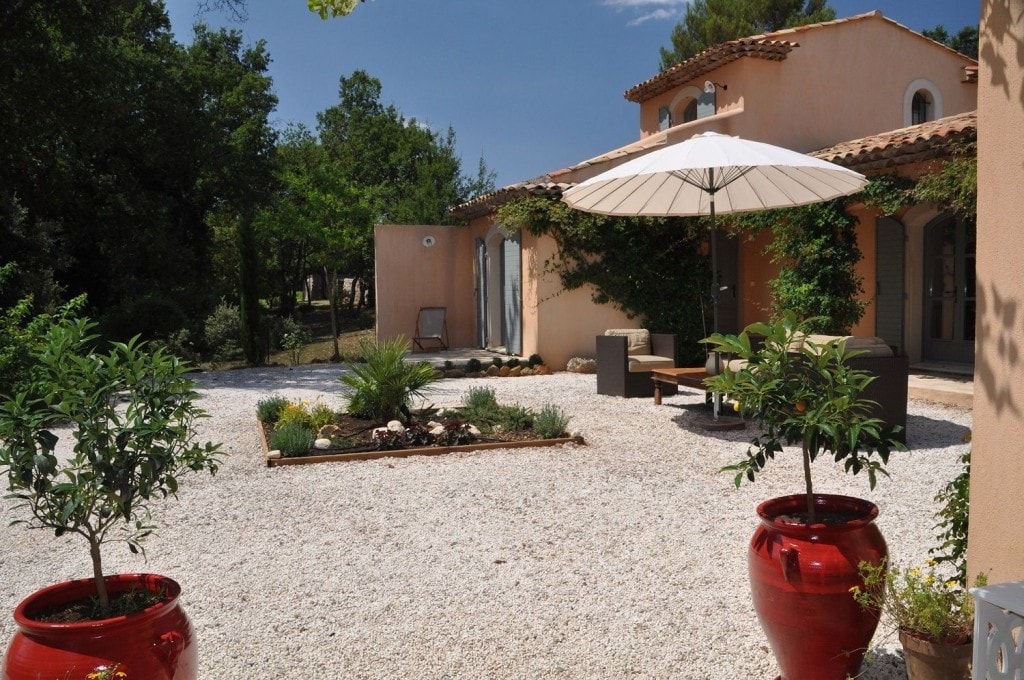 The "Grand Terrace with view " is the ideal place for relaxing, reading or sharing
The Grand Terrace with a view and its lounge is located in front of the 3 guest rooms. French windows of the two bedrooms on the ground floor open onto it, while the balcony of the bedroom on the 1st floor overlooks it.
In the center, there is a beautiful Anduze vase planted with a small palm tree.
On the sides you will see rose bushes and two large red pots with Kumquatiers. And, you can go to the side of the house and hang your personal laundry out of sight.
The lounge offers one 3-seaters sofa, two armchairs and two woven resin poufs covered with soft cushion. Large parasols allow you to be in the shade if desired.
Join also, the patio where a large table and benches are set up for breakfast in the summer. In addition, it's possible to directly access the swimming pool and the wellness area.
And, just walk the pétanque court, in the shade of century-old oak trees. The park and the swimming pool faces the large 1 hectare park.
It allows you to have a 180 degree look at olive trees, lavenders and vineyard. And the song of birds (robin, doves, chickadees) is the only background noise. You can have an aperitif there at the end of the evening, to watch the starry sky or simply to laze around.